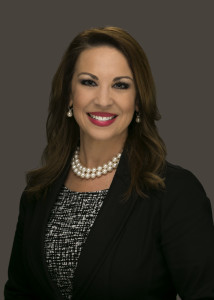 PALM BEACH GARDENS, FLA – April 14, 2017 – Laura King, Vice President at First Citizens Bank is once again being recognized for her outstanding performance.
King works for the Palm Beach Gardens branch of First Citizens Bank as Vice President Commercial Banker and has been employed with the bank since 2004.
Each year First Citizens ranks their commercial bankers across the nation and invites the top 15 performers to their award ceremony. This year King's outstanding performance in the Palm Beach community landed her an invitation to First Citizens Bank's annual award's ceremony in Orlando, Florida on March 30.
This year's award was not King's first, as she has been recognized as a top performer for First Citizens Bank in 2006, 2010, 2013 and 2016 prior to this year, making this year her fifth award in thirteen years. "My philosophy is to be an advocate for my clients. I follow through with what I promise throughout the process and it is easy to meet the client's expectations," said King. "My best referral sources are my clients who are excited to share their experience with their network."
King is fully emerged in the community currently serves as President of the local CREW Palm Beach/Treasure Coast chapter, serves on the board of directors for Cancer Alliance for Help & Hope, Palm Beach North County Chamber of Commerce as well as co-founder of Business-to-Business for Women.
# # #
About First Citizens Bank
First Citizens Bank is the largest family controlled bank in the United States. Headquartered in Raleigh, North Carolina, serving the community since 1898, they have over 500 branches nationwide and the highest rating of 5 stars. For more information on First Citizens Bank visit http://www.firstcitizens.com